Description:
 For several clients we are looking for motivated Cabbage Cutters
As a cabbage cutter you work in the open air, at the field. Very healthy! Just like the products you harvest. It is important for this job that you are physically strong; you often work on your knees, and you have to cut the cabbage / broccoli / lettuce from the land. You work in teams.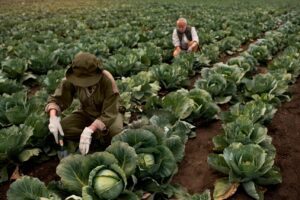 Worktimes:
The working hours depend per client but mostly 5 or 6 days per week between 6:00 o'clock and 19:00 o'clock.
Offers:
We offer you a temporary fulltime position in which you work 38-48 hours a week.
The minimum working period for this job is 3 months. The work starts +/- 15th of August and goes on until the end of November, or sometimes even December (also depending per client, but also depending on the weather).
We offer you a salary of € 13,- gross per hour and the possibility to make extra hours.
Off course you also receive holiday allowance.
          What do you earn per week:
                        38 hours                                             € 494,- gross
                        45 hours                                            € 585,-  gross
                        48 hours                                             € 624,- gross
Mondial Uitzend offers different housing options. For example, we have hotels, farms, apartments, etc. When planning the accommodation, we look at the distance from your work location and of course we always try to take cohabitation with friends etc. All our accommodation is SNF approved.
We can arrange a health insurance for you. Such an insurance is mandatory when you work in the Netherlands.
We work with different kind of nationalities at Mondial. And we know how important it is to be able to communicate in your own language. That's why we have coordinators who can give you guidance and answer your questions in your own language.
Demands:
For this job it's necessary to have high motivation and energy. You are physically strong ans a real go-getter. You like to work hard and long days ae no objection for you. You also like to work in teams.
You are available to work for at least 3 months
driving license B (not required but highly recommended)
Company Profile:
Who are we?
We are Mondial Uitzend B.V., based in 't Zand, Noord-Holland (the Netherlands). Mondial Uitzend B.V. is a real family business that stands for service and involvement. We work for and with people and we do that with integrity. Respect, helpful, result / focus, expertise, pride and reliability are very important to us!